Join us for CCIC's Virtual Edition of its Cooperation Forum. This 4 half-day forum will be available on desktop and on your phone!
The Canadian Council for International Co-operation is organizing a virtual edition of its Cooperation Forum on June 8 – 11. The Forum will convene CCIC's members and others to discuss issues that matter for the international development and humanitarian sector, host CCIC's AGM and more!
The Cooperation Forum will be hosted on an app which will have individual livestreams for each session in our program. We have also integrated a networking feature called Braindate to help participants connect during the Forum as well as a virtual exhbitor hall where organizations can upload resources and materials that they would like to share with others!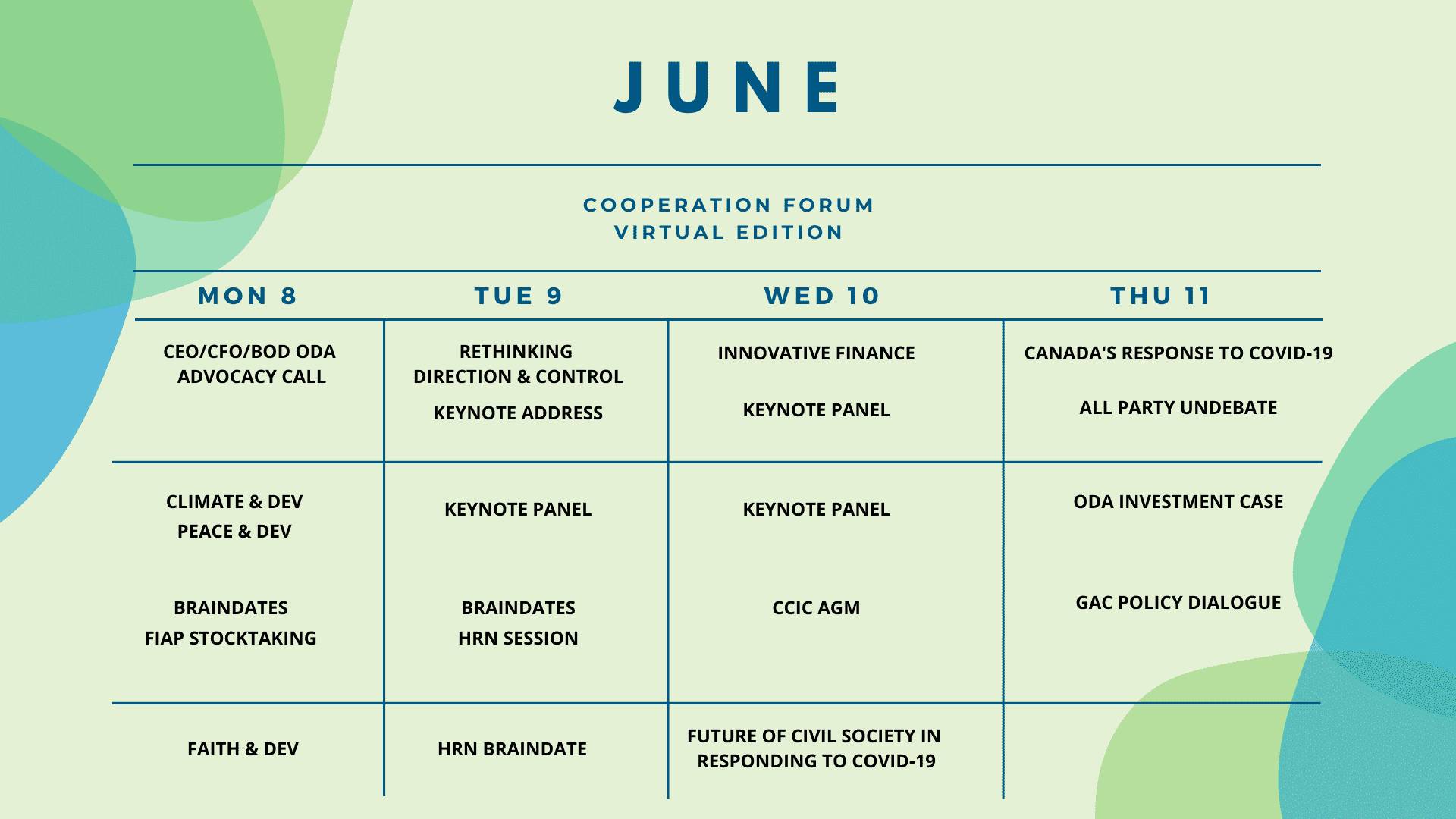 June 8
11:00 – 12:00 (EDT)

CEO

,

CFOs and Board Members

O

fficial Development Assistance (ODA)

Advocacy Call 

 

12:00 – 12:45 (EDT)
Opening Remarks
1:00 – 2:15 (EDT)

Session: From Crisis to Crisis: Applying Covid-19 Learnings to Climate Action

Session: Peace & Development

2:15 – 2:30 (EDT)
Break
2:30 – 4:00 (EDT)

Session: FIAP Stocktaking

Session: Braindates

4:00 – 5:00 (EDT)
Session: Faith & Development
June 9
11:00 – 12:00 (EDT)

Rethinking direction & control: a new way forward

 

12:00 – 12:45 (EDT)
Keynote Address
1:00 – 2:15 (EDT)
Keynote Panel: The Intersection of Climate Change, Gender and Food Systems
2:15 – 2:30 (EDT)
Break
2:30 – 4:00 (EDT)

HRN Session: The Impact of COVID-19 on the Humanitarian Sector*

Session: Braindate

4:00 – 5:00 (EDT)
HRN Braindate Session: COVID information sharing discussion groups*
*Only open to HRN members
June 10
| | |
| --- | --- |
| 11:00 – 12:00 (EDT) | Session: Blended finance for development: under what conditions? |
| 12:00 – 12:45 (EDT) | Keynote Panel: Realizing a Feminist Canadian Foreign Policy |
| 1:15 – 1:30 (EDT) | AGM Technology Webinar |
| 1:30 – 1:50 (EDT) | Break |
| 1:50 – 3:50 (EDT) | CCIC AGM |
| 4:00 – 5:00 (EDT) | Future of Civil Society in Responding to COVID-19 |
June 11
| | |
| --- | --- |
| 11:00 – 12:00 (EDT) | Canada's Response to COVID-19 |
| 12:00 – 12:45 (EDT) | All party unDebate – Charting the common ground in federal party perspectives in international cooperation |
| 1:00 – 2:45 (EDT) | ODA Investment Case |
| 2:45 – 3:00 (EDT) | Break |
| 3:00 – 4:30 (EDT) | GAC Policy Dialogue |
Registration for sessions is now
OPEN

!
With over 20 sessions available to choose from, there is something for everyone! Now is the time to choose which sessions you would like to attend. The registration form is password protected and only accesible by participants.
Participants have received an email with the password. Didn't receive a password?
Contact Madeleine Lemaire mlemaire@ccic.ca
Braindates
Sponsor: Available 

June 8 & 9

Time: 2:30 – 4

Now more than ever, it is important to create opportunities for meaningful connections and knowledge exchnage within our communities – No matter how far apart we may be.

That is why we have set aside dedicated networking time for participants to go on braindates with one another; whether as groups of up to 5 people or 1:1 for up to 45 minutes.

Braindates are entirely online conversations based on common interest on a theme. They are topic-driven, learning-focused and help connect people with others that have similar interests.

You can post your own topic that you would like to discuss or join another topic that has been posted on the forum by selecting the "join this theme" button.

More technical details on how to engage on Braindates will be shared ahead of the Cooperation Forum.

More info: ccic.braindate.com
CEO, CFOs and Board Members Official Development Assistance (ODA) Advocacy Call
June 8 

Time: 11:00 – 11:50

This session is limited to CEO and CFO participation among CCIC and CanWaCH member organizations. 

In this session CCIC and CanWaCH member organizations' CEOs and CFOs will be invited to receive an update on and discuss the sector's ongoing ODA Advocacy work. We know that Canadian aid has been decreasing as a percentage of GNI for a decade, which poses a great risk to the sector.  In response to this risk, CCIC and CanWaCH have come together to build a campaign and coalition to defend and increase Canadian aid.  Regardless of the size, mission or funding model of your organisation, this session will be a chance for the sector to come together around an issue that impacts us all.   CEOs and CFOs will hear from Richard Darlington, who successfully led the UK's advocacy initiative to an increase in ODA to 0.7%, on what worked and what didn't in the UK.  During this session, there will be opportunities to discuss how these lessons learned can be applied to the Canadian context and how Canadian civil society can help pave the way to an increase in ODA.   

Objectives: 

To inform CFOs and CEOs about the ODA Campaign strategy and lessons learned from the UK's experience

 

To energize and mobilise

CFOs

and CEOs across the sector

in support of the

ODA Campaign

 

To make a "soft ask" for financial contributions to support this work.

 
From Crisis to Crisis: Applying Covid-19 Learnings to Climate Action
Sponsor of this session: 

Mennonite Economic Development Associates

Monday June 8

1:00 – 2:15

As Canada look towards the pending conclusion of Canada's five-year Paris Agreement climate finance commitments, the next year will be important for policy engagement by civil society and others in defining the future of Canadian contributions in support of climate action. Guided by a feminist and human rights-based approach, Canada's international assistance is one of the many critical ways that Canada is contributing to addressing the impacts of global climate change.

We have seen Covid-19 force the hands of public, private and civil society sectors to make drastic changes to adapt to the current crisis and put in place safe, sustainable practices for the future. Collectively, we are doing our best to flatten the curve to end the crisis, while supporting businesses, individuals and the broader economy to remain resilient and move into recovery. What have we learned from the current crisis and what changes have we made that can be applied to the looming climate crisis, recognizing that now is the time to analyze our practices, and apply the will to make them sustainable? In this session, we will hear from private, civil society and indigenous actors to learn how they are applying learnings from the current crisis to help their clients, customers and stakeholders pivot towards environmentally sustainable practices and more quickly engage in the coming green economy.

Moderator: Mujtaba Ali, Environment and Climate Change Specialist MEDA (Mennonite Economic Development Associates)

Panelists:

1. Jimena Eyzaguirre, Intl. Team Director – Climate Change Adaptation Lead, Essa Technologies Ltd

2. Al Douglas, President, Climate Risk Institute : CRI (formerly OCCIAR)

3. Indigenous Correspondent: Kerry-Ann Charles, Environment Partnership Coordinator, Cambium Aboriginal Inc
Peace and Development Workshop
Sponsor of this session: Forum of Federations

Monday June 8 

1:00 – 2:15

Following on election promises in 2019, the Canadian government included the establishment of a Canadian Centre on Peace, Order and Good Government as part of the mandate letter for the Minister of Foreign Affairs, supported by the Minister of International Development. The Centre is expected to expand Canadian expertise and assistance in peacebuilding, advancing justice, the promotion of human rights and democracy, and good governance. In addition, mandate letters continue to prioritize Canada's support for United Nations peace operations, including investments in women, peace and security; ambitions to obtain a Security Council seat in June 2020; and efforts to reinforce regimes and institutions that support Canada's objectives as they relate to peace and development.

The session, shaped and programmed by Forum of Federations will examine the roll-out of Canada's peace and development priorities, progress to date and identify opportunities for civil society input and influence on Canada's approach.
Faith and Development Workshop
Sponsor of this session: Available to purchase

June 8

4:00 – 5:00

Canada's international development and humanitarian sector is diverse. It is characterized by small, medium and large organizations, inside and outside civil society, from coast to coast to coast, and with a variety of mandates. Across these dimensions of diversity, faith is another. This session will offer an opportunity for sponsors to advance discussions on faith in the Canadian development community through engagement with faith-inspired, faith-based and secular organizations on the critical role of faith as it relates to development programming in many of Canada's partners countries.

The session will include opportunities for exchange on faith as a competency in development, interfaith collaboration including in responding to COVID-19 and how to engage Global Affairs Canada on the intersection between faith and development.
Reflecting on the Future of the Feminist International Assistance Policy
Monday June 8 

2:30 – 4:00

The Feminist International Assistance Policy (FIAP) enters its third year of implementation in 2020. The roll-out has included action area policies released in 2019, the development of key performance indicators and a range of funding commitments across sectors to realize women's rights and empowerment, including through support to local women's rights organizations. Global Affairs Canada has carried out an internal stocktaking on its efforts to implement the FIAP. For their part, Canadian civil society organizations recently completed analyses on experiences integrating gender equality and women's empowerment into policies, operations and programs and of experiences with the Women's Voice and Leadership Program, a flagship component of FIAP implementation. As the world responds to the COVID-19 pandemic, Canada's feminist leadership will be critical to promote recovery grounded in solidarity, equity, human rights and sustainable development. This session will offer participants an opportunity to reflect on progress since the establishment of the FIAP and identify lessons learned and key priorities for the coming years. 

Moderator: Anne Delorme, Coordonnatrice du Comité québécois femmes et développement et de la communauté de pratique « Genre en pratique » , AQOCI 

Panelists:  

Garett Pratt, Deputy Director, International Assistance Policy Coordination Division, Global Affairs Canada 

Sandeep Prasad, Executive Director, Action Canada for Sexual Health and Rights 

Samantha McGavin, Asia Team, Inter Pares   

Sheila Rao, International Development Research Consultant/Lecturer, Carleton University 

Beth Woroniuk, Policy Lead, Equality Fund
Rethinking direction & control: a new way forward
Organizer: Humanitarian Response Network

June 9 

11:00 – 11:50

The session will inform and engage participants on the Canada Revenue Agency's direction & control regulations and the operational impacts on humanitarian charities. Speakers will review progress on the ongoing reform process, the work of the advisory committee on the charitable sector, and highlight concrete ways for engagement on this issue that impacts the sector as a whole.  

This session follows the presentation at the 2019 Head of Agencies meeting by John Clayton of Samaritan's Purse Canada. We will further the discussion on direction & control and reflect on the impacts of regulations on humanitarian response. 

Moderator: John Clayton, Samaritains Purse

Panelists: 

– Denise Byrnes, Oxfam QC

– Senator Ratna Omidvar
Keynote panel: The Intersection of Climate Change, Gender and Food Systems
This panel is co-sponsored by the Mennonite Economic Development Associates & Mennonite Central Committee Canada

June 9

Time: 1:00 – 2:15

Goal: 

The purpose of this event is to explore some of the best approaches from Canadian international development actors for ensuring that the most vulnerable  women and youth (girls and boys) are benefiting from tailored initiatives that respond in a sustainable manner  to their specific economic development challenges and aspirations in the face of a changing climate. 

Context: 

More than 820 million in the world are still hungry, most of whom are rural women, relying on rain-fed farming for their livelihoods. Despite women providing most of the agricultural labor, they hardly benefit from the growth to which they contribute.  

With the changing climate, women and youth are experiencing an accelerated degradation of their living, as farming becomes uncertain, and associated chores such as energy (firewood gathering) and water–fetching turn into herculean tasks. These conditions necessitate several coping strategies and potential extremes such as migration, radicalization or aggressive uses of renewable natural resources that contribute to deforestation. 

While women and youth are most and disproportionately exposed to climate change impacts, they remain custodians of the world's agrarian ecosystems and pillars of rural economic development. As such, women are critical players in any form of climate action. In spite of this, the gender and age discrimination they are experiencing must be uprooted in order to unlock their potential and rights to contribute to and benefit from economic development and to meaningfully play their role in combating climate change. 

Moderator: Naomi Johnson, CFGB

Panellists:

1. Claude Beausejour, DG for Food Security and Environment at GAC

2.

Sandra Gagnon, Senior Program Officer IDRC

3. Alexandra Harmash, MEDA

4. Cornelia Horsch, Horsch Maschinen

5. Vurayayi Pugeni, MCC
HRN Session: COVID-19 & the humanitarian sector in Canada *
Organizer: Humanitarian Response Network

June 9 

2:30 – 4:00

Speakers from the government of Canada and leaders of member organizations will share how the sector has been impacted by, and is adapting to, the response to the COVID-19 pandemic. Participants will receive an update on ongoing advocacy campaigns, government engagement, and new ways of working.  

The session will be followed by small-group discussions on Braindate, led by sector leaders to share and gather insights on specific topics impacting the sector. Topics include: 

The Nexus: is COVID-19 shifting the divide between development and humanitarian response?  

 

Localization: the opportunity to shift to local response due to COVID-19  

 

Advocacy initiatives: what is your organization doing to advocate for your needs?  

 

Operational challenges: what is the top challenge for your organization in the new COVID-19 reality?

 

Innovation: how is your organization innovating in times of financial and operational uncertainty? 

 

Please sign up to contribute to a discussion group in the Eventbrite registration form. 

Panelist: Bob Rae
Blended finance for development: under what conditions?
Sponsor of this session: SOCODEVI & Développement international Desjardins

June 10

11:00 – 11:50

Less than 10 years: This is the time remaining to achieve the Sustainable Development Goals (SDOs) within the target date.  According to the UN, the total funding needed to achieve the SDGs is nearly $4 trillion per year, leaving an estimated funding gap of $2.5 trillion per year to achieve SDGs in developing countries alone. It is therefore essential and even urgent to attract funds from the private sector to finance development, since the public sector alone will not be able to answer all needs. Blended finance refers to the use of catalytic capital from public or philanthropic sources to increase private sector investment in sustainable development. The key objective of blended finance is to create investment opportunities with an acceptable risk/return profile for private investors (source: Convergence – DFID). How can we create the winning conditions for successful blended finance? In collaboration with CCIC, the sponsors of this session and their guests will provide insightful answers by sharing their diverse experiences and vision.
Keynote panel: Realizing a Feminist Canadian Foreign Policy
Organizer: CCIC

June 10 

12:00 – 12:45

Objectives: 

Inform

on (1) history of feminist foreign policy,

what it is, (2) present status of

feminist approaches in Canadian foreign policy circles (ex. FIAP,

WPS Ambassador,

intent for a FFP white paper)

 

What would a truly

feminist

FP

look like for Canada?

Define an ideal state and why it matters.

 

From present state, what is needed

to get to the ideal state (gaps, milestones, role for civil society)

 
Future of civil society in responding to COVID-19
Organizer: CCIC

June 10 

4:00 – 5:00

The COVID-19 pandemic has challenged many of the fundamental ways in which civil society in the international development and humanitarian sector operates. As flights were grounded and repatriation of Canadian staff occurred, civil society organizations have identified innovative approaches to continuing their operations, working with local partners and pivoting existing programs to respond to the pandemic. Localization – a longstanding agenda for development and humanitarian actors alike – has taken on new life. The impact of COVID-19 has challenged existing business models and presented opportunities for an evolution in the way Canadian civil society organizations operate. This session will reflect on emerging opportunities and early take-aways from the experience of the COVID-19 response. 

Moderator: Nicolas Moyer, President and CEO, Canadian Council for International Co-operation  

Panelists:  

Julia Sanchez, Secretary General

of ActionAid International and CIVICUS Board Chair

 

Barbara Grantham, President

and CEO,

 Care Canada

 

Perspective by local partner on the evolving role of Northern

partners

 
Canada's Contribution to a Global Post-Covid-19 Feminist Green Marshall Plan
Organizer: CCIC

June 11

11:00 – 11:50

The impacts of the COVID-19 pandemic are being felt in Canada and abroad with over 4 million cases report worldwide. The crisis has yet to peak in the Global South. Yet the knock-on effects of the pandemic are becoming increasingly clear in the world's most vulnerable countries with women carrying the biggest burdens, public health systems overrun and under massive pressures, economies shattered, food insecurity on the horizon and human rights in peril as authoritarian states clamp down on civil society. At the same time, the crisis has shown what is possible with governments grounding planes in a matter of weeks, countries like Canada rolling out universal basic income by another name and a renewed recognition of the role of states and social policies to support those at risk of falling behind. An opportunity exists for Canada and the world to emerge stronger and more resilient from the crisis. This session will examine the key policy responses needed for sustainable, equitable, transformative and ambitious recovery from the COVID-19 pandemic. Informed by views from the Global South and Canada, it will unpack what a Global Green Marshall plan might include and Canada's role in supporting such a plan. 

Moderator: Bessma Momani, Full Professor and interim Assistant Vice-President of International Relations, University of Waterloo 

Panelists:  

Catherine Abreu,

Executive Director, Climate Action Network

 

Andrea

Ordóñez

,

Director,

Southern Voice

 

 

Senator

Peter Boehm

,

former

Deputy Minister of Inte

rnational Development

and G7 Sherpa to the PM

(TBC)
All party unDebate – charting the common ground in federal party perspectives for international cooperation
June 11 12:00 – 12:45
Moderator: Nicolas Moyer, CEO, CCIC
Panelists:
Kamal

Khera

(PS to Minister Gould)

 

Heather McPherson (NDP Critic)

 

Mike Lake (Conservative Critic)

 
Alexis Brunelle-Duceppe (Bloc critic)

 

Elizabeth May (Green party)

 
Objectives: 
Explicitly i

dentify

areas of agreement between parties on int'l cooperation

 
Incubate

positive dialogue between parties on this

topic

 

Inform

strategies to depoliticize

Canadian aid

, elevate all-party ambition on this file

 
This panel will explore the areas of shared objectives and interest between all of Canada's main federal parties with respect to international development and humanitarian relief.  Because contributing to a better and fairer world requires consistent commitment over time and because Canadians share common values, understanding where we all agree progress is needed is critical to our ability to make a lasting difference.  Whereas political dialogue so often focuses on differences between parties, this panel will to the opposite, seeking specifically to explore the areas of alignment between parties.
ODA Investment Case Workshop
June 11 1:00 – 2:45
In 2020, CCIC is supporting and facilitating development of an investment case for Official Development Assistance (ODA), drawing on sector guidance and input. CCIC's Cooperation Forum will serve as an important mid-point in the development of the ODA investment case. This process includes both a "macro" case looking at the political investment case for ODA overall, on which CCIC is leading with support from members and partners; and a set of thematic cases expressing the impact of investment in specific sectors, being developed by sector coalitions and working groups expert in particular fields.  
In this session, CCIC will present the overall investment case. Thematic coalitions and working groups will present sector-specific investment cases. Participants will give feedback and ideas for improvement on both. Following initial overall feedback, participants will join small group discussions to provide specific feedback on how sector investment cases can be improved. This will be a key moment to consolidate and refine the investment case process prior to launch in late 2020.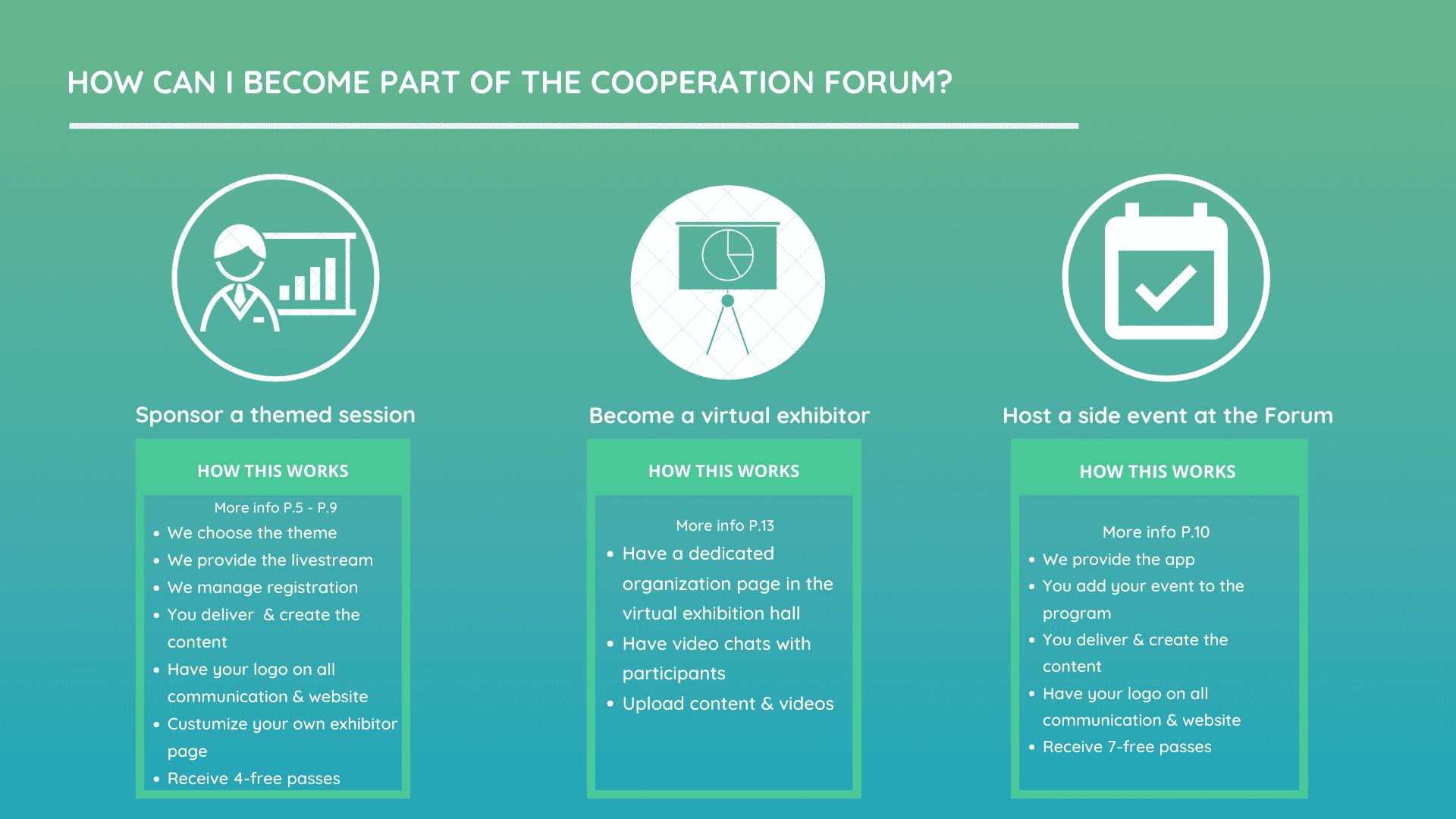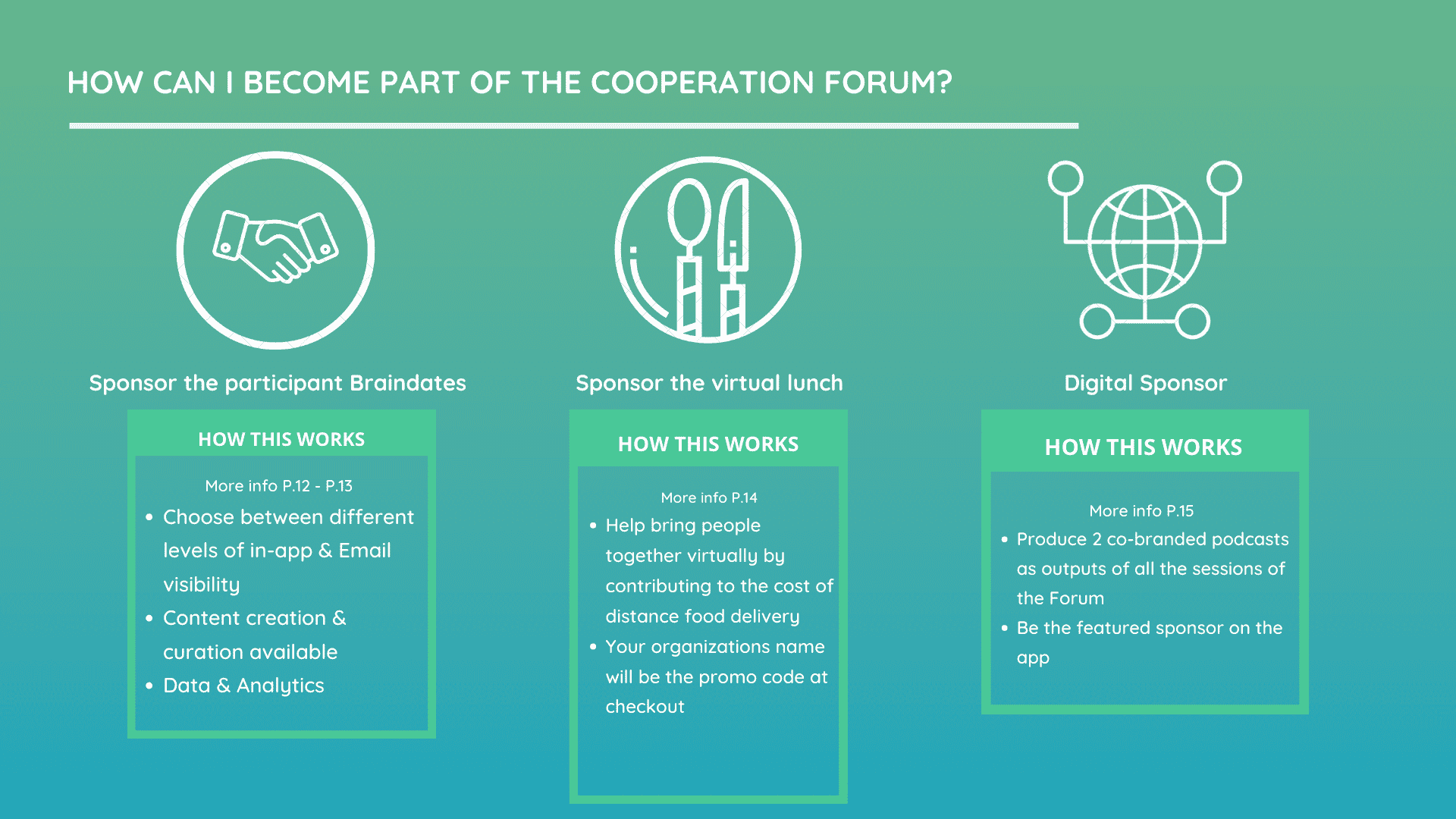 CCIC Member rate
All sessions access

Recordings of sessions

Virtual lunch promo code
CCIC Non-Member rate
All sessions access

Recordings of sessions

Virtual lunch promo code
Youth Rate
All sessions access

Recordings of sessions

Virtual lunch promo code
HRN Head of Agency Meeting Only
June 9
Contact Madeleine Lemaire
Manager, Community Development and Events
Thank you to our sponsors!